A scenic drive on one of Thailand's most beautiful country roads leads you to a hidden highland in the enchanting country of west Thailand. Enjoy a jungle night stay at the treehouse in a natural setting with limited electricity but peaceful environs, providing a terrific view of the mountain ranges over a vast area. Elephant riding and bamboo rafting colourise your adventure experience in the country rich in forest and river. Added to this nature and adventure trip is a memorable visit to Hellfire Pass – a dramatic cutting site done by POWs left from WWII period that attracts people worldwide.
Day 1 : Vachiralongkorn Dam- Glennis forest gradehome- Phapare waterfall- Ethnic village- Thai-Burma border- Scenic drive -Treehouse Home Treesort.
...................................................................................................................................................................
| | |
| --- | --- |
| 08.00 | Pick up from hotel in Kanchanaburi and proceed journey to the north of Kanchanaburi by 4x4 vehicle. |
| 10.00 | Arrive Vachiralongkorn Dam . Enjoy coffee time and a breathtaking view overlooking the reservoir. Then continue a journey on the scenic country road with a terrific mountain and lake view. |
| 11.20 | Enjoy the impressive view of the mountain ranges while driving up to Pilok,non-touristy highland lookout post between Thailand and Burma providing a magnificent view of The mountain ranges that keep the two countries apart. |
| 12.00 | Then set off an off-road journey (30 minutes) along the stony road into magnificent Pilok valley that provides a dramatic view of the former mining area. |
| 12.30 | Warm welcome by home lunch , coffee or tea and different kinds of cakes. During lunch a nice chat with the owner about her extraordinary experience and the legend of Pilok village in its glorious period. |
| 14.00 | After lunch, start a walking trip passing the former mining area with magnificently open mountain landscape. 6 kms walking trail (approx. 3 hours walk, single leg) in the splendid valley along the mountain edge will lead to a fascinating limestone waterfall in the open mountain landscape. Enjoy swimming and relaxing by the fall. |
| | Note: Generally, the routes are stony snaking up and down the forested mountain and open landscape with terrific views. Walking sticks may be considered for some walkers. Those who want to have an easy day can enjoy a beautiful drive on the mountain ridge into the most stunning waterfall and all over the area. |
| 16.00 | Set off a journey to Treehouse Home Treesort. |
| 17.45 | Upon arrival, check in then leisure. |
| 19.00 | Thai dinner in the warm atmosphere and soothing sound of nature. |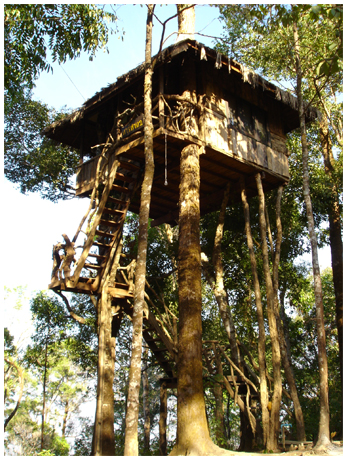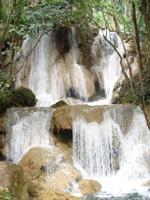 Resort Details: There are 3 types of accommodation at this peaceful and cozy place: earthen houses, bamboo huts on a tamarind tree andbamboo huts on the river bank. Three small rooms on the tree are equipped with simple facilities such as mosquito net, mattress, blanket and pillows with one shared bathroom. Two earthen houses with bathrooms inside, but decorated in a different style. One earthen house has two beds and the other has three beds. They were built by natural materials to make visitors have a sense of nature as much as possible. The other 3 bamboo huts are well nestled, hidden in the bamboo thickets, in harmony with nature along the river slope, equipped with simple facilities and external shared bathrooms. All these accommodations are basic with minimum facilities, but with a reach touch of nature.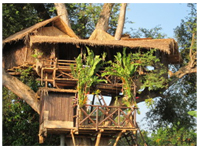 Day 2 : Hindad Hot spring- Hell Fire Pass- Elephant riding- Bamboo rafting
...............................................................................................................................
| | |
| --- | --- |
| 10.00 | After breakfast, check out & depart for Hindad Hot Spring. |
| 10.30 | En route, enjoy a natural spa while bathing in the mineral water of Hindad Hot Spring. |
| 12.00 | Lunch at local restaurant where appropriate. |
| 13.00 | Depart for Hell Fire Pass Memorial. |
| 13.40 | Upon arrival, learn about the moving story of WWII from the most comprehensive exhibition of the memorial's museum. Then walk up and down the hill to glimpse the Death Railway remnants. |
| 15.00 | Depart for Elephant camp. |
| 15.40 | Upon arrival, exciting with elephant riding near the riverside and enjoy river journey by bamboo rafting along the Kwai River. (30 min. each) |
| 17.00 | Return to Kanchanaburi town. |
| 18.00 | Reach Kanchanaburi. End of the service by Jumbo. |
Included:
1. Transfer by car throughout the trip in Kanchanaburi.
2. 1 night accommodation at a jungle treehouse (simple with minimum facility)
3. 4 meals [2 lunch, 1 breakfast and 1 dinner]
4. Coffee, tea, drinking water, cool towels and snacks
5. Insurance [Bt.1,000,000 per person]
6. Elephant riding and bamboo rafting
7. Waterfall and village visits as mentioned
8. Entrance fee to the places mentioned

Excluded:
1. Transfer from/to Bangkok
2. Soft drinks, beer and alcohol

Recommendations:
Reliable walking shoes, loose cotton clothes and mosquito repellent are recommended. For those who are sensitive to sunshine, please wear hats and apply sun block lotion.

Interests on route:
- fascinating mountainous landscape with limestone hills
- former mining area & geology
- exotic highland in west Thailand
- rainforest, tropical fauna and flora
- non-touristy and hidden waterfalls,
- WWII related Death Railway, museum & the Bridge