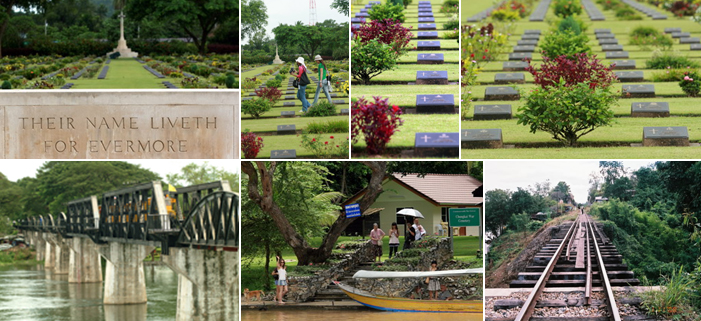 With the long-tailed boat, you can touch Kanchanaburi in your own way. It is definitely you who design how much time to spend in which place, and to keep up with your own pace. Take a glimpse of the river scenery and the local people's way of life. Disembark at Chong Kai War Cemetery by the River Kwai amid the peaceful atmosphere in which thousands of late prisoners peacefully lie underneath forever. Then continue your river journey to Wat Tham Khao Poon (literally means Limestone Cave Temple). Thereafter, continue a journey to visit the JEATH War Museum that houses a large number of items reminding you of WWII. Last, but not least, the Bridge on the River Kwai still awaits to make sure that you don't really miss what is regarded as heart of Kanchanaburi.



Places to visit:
1. The Bridge on the River Kwai
2. JEATH War Museum
3. Chong Kai War Cemetery
4. Kao Poon Cave Temple

Remark:
This price does not include guide services and entrance fee to all the places mentioned in the programme. If an English-speaking guide is needed, guide charter is 800 Baht / day / guide.