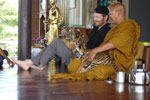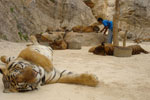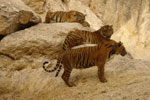 Itinerary
14.00

Depart the accommodation for Tiger temple.

14.40

Arrive the Tiger Temple, which is well reported by many international and local media for it's challenging "Tiger Conservation Project". Most of these rescued tigers are well taken cared of by the buddhist monks and their followers led by the abbot Phra Acharn Phoosit Khantidharo who also works in collaboration with some other organisations to run the newly establised tiger conservation project. It is really amazing to observe the Buddhist monk walks the tigers around before letting the tigers enjoy themselves in the pound.

Precaution: While observing the tiger's walk for exercise, please follow the instructions and advises given by the sanctuary keepers and local guides.

16.20

Return to the accommodation.

17.00

Arrive the accommodation.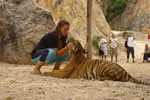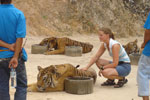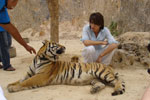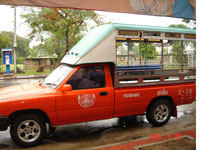 Included:
1. Round-trip transfer by local truck
2. Entrance fee & donation to support the tiger temple
3. Drinking water, cool towels, coffee or tea, and snacks
4. English-speaking guide
5. Insurance (1,000,000 Thai baht per person)

Remarks:
Please do not dress in red as, for the reason we don't know, the tigers here hate the red colour that may make them become aggressive.