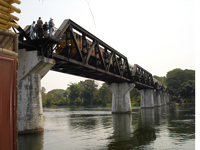 Throughout a perfect holiday including some cooking lessons, you will enjoy Thai hospitality & spending time with a local Thai family at Baan Chang Tammarind Woodland and exploring a unique beauty of Kanchanaburi. Excursions also include a visit to the ancient capital of Ayuttaya, a must-see UNESCO's cultural world heritage destination.
Located just 4 kms from the Bridge over the River Kwai, our Baan Chang Tammarind Woodland was built in a contemporary Thai style, simply furnished but cosy atmosphere releasing warm and welcoming Asian spells. The 3 storey house is surrounded by woodland comprising tropical trees and plants some of which stay green all year round like our famous tammarind (makam in Thai). Simple but nice wooden bungalows in the woodland, if needed, is a nice & peaceful place to stay. Our private fitness room is to make sure that you always stay healthy and do not gain weight on your return to your country. It is well equipped with high quality treadmill and bicycle. Weight lifting can be done but no trainer is provided.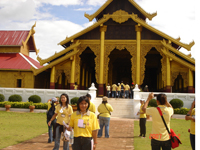 In its 2 acres, the house offers plenty of room for gardening and planting which includes mango, jackfruit, coconut palm tree, ruby fruit, banana and custard apple etc. Certain amount of room is also sacrificed for its kitchen garden where a number of tropical herbs are found: holy and sweet basils, kaffir lime, lemon grass, pepper wine, ginger & galangal, chili etc. Various kinds of tropical flowers add some colours to the house and enhance its atmosphere and mood. Dawn and sunset over the charming peaks of limestone mountains in a distance can also be a moment that you never forget. For sure, you would love to wake up to lovely sounds of crickets, birds and fresh morning with beautiful sunlight.
The family has nine dogs together, both Thai and hybrid. They are all friendly and a good company when going for a walk or jogging in the garden.


Leisure activities at/near the house:
• Situated nextdoor is the River Kwai Horse Riding Camp run by half-Thai half-German woman, the 2nd generation operating this family run business. Taught in English, a horse riding course is offered for both the beginner and the experienced (charges based on time of riding)
• Swimming in a luxurious pool of 4 star resort nearby, 5 kms. from the house (non-guest charged)
• Cycling to the Bridge over the River Kwai, 4 kms, and its vicinity (bicycle is available free of charge at home)
• Jogging or walking in the peaceful home garden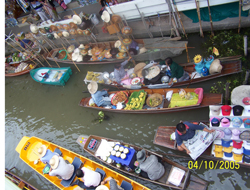 Itinerary
Day 1 : Early morning pick up from Bangkok to the infamous Floating Market in Damnoensaduak, Ratchaburi. Glimpses of local lifestyle and colours of fruits and food during a canal tour. Late morning, continue westward to Kanchanaburi (1.3 hours drive), Lunch at a local restaurant. Afternoon visit to Erawan National Park. Enjoy a nature walk, swimming and relaxing in its heavenly emerald-coloured pool at your own pace. Return to KAN town and proceed to Baan Chang Tamarind Woodland4 kms. 4 kms. From the Bridge on the River Kwai. Welcome drinks. Dinner at the town's best seafood restaurant hidden on the river bank.


Day 2 : Full day excursion out of the town – walking along the Death Railway remnant at the well known Hellfire Pass Memorial. Lunch at a local restaurant. Have a wonderful
experience of elephant riding and then leisurely enjoy bamboo rafting and a train ride along the legendary River Kwai. Visit the Bridge & the war cemetery.

Late afternoon learn to do Thai cooking with a local family Tom Ka Gai (Chicken in coconut soup), stir fried minced pork with holy basil, fried bean sprouts with taufu and spicy long egg-plant salad). Dinner at home.


Day 3 : Early wake up and go to a colourful local morning market to shop some fresh fruits & food, then food offering to the Buddhist monk at the market. Return to the house and then breakfast. Check out and proceed to the ancient capital of Ayuttaya on a nice cross-country road passing a huge rice plain, part of a so-called 'Rice Bowl of Thailand'. After visiting the ancient palaces, Buddhist temples & ruins dating back 400 years ago, transfer back to BKK. End of the service.






Included:
1. Round-trip transfer by a/c van from/to Bangkok and in Kanchanaburi Visits to the places and tours as mentioned above
2. 2 nights accommodation (twin sharing basis) with a local family or a family-run bungalows
3. 7 meals, drinking water, coffee/tea, cool towels
4. English-speaking guide
5. Travel insurance

Excluded:
1. Soft drinks, beer and alcohol
2. Personal expenses